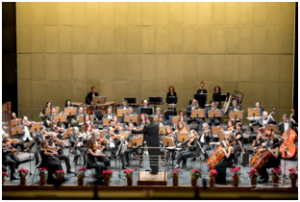 The TCSO was founded in 1987 under its original name of ''Municipal Orchestra'' and its first artistic director was Kosmas Galileas. It consists of acclaimed musicians and is actively involved in the city's musical events. Besides performing their own regularly scheduled concerts the orchestra also puts on educational concerts, it appears in co-productions with renowned artists, it has performances with other orchestras, it participates in festivals and international competitions, and it has performed concerts all over Greece and abroad, as well. From 1993-1998 the artistic direction was undertaken by conductor Dimitris Agrafiotis and from 1999-2005 by conductor Byron Fidetzis. Starting in 2013 the artistic coordinator of the orchestra was cellist Christos Gribas. From 2001 and through today the position of permanent conductor is held by Haris Iliadis. The role of artistic coordinator for the orchestra has been taken over by conductor Liza Xanthopoulou as of April 2018.
Throughout the years of its existence the TCSO has had the pleasure and honor to host great soloists and conductors such as: D. Sgouros, G. Demertzis, L. Kavakos, M. Tirimos, G. Vakarelis, G. Lazaridis, S. Katsaris, V. Repin, F.J. Sellheim, L.L. Galati, R. Moog, L. Oistrach, R. Syracuse, V. Trethiakov, K. Kelly, G. Schuller, C. Struder, Kiri Te Kanawa, and Vanessa Mae, among others. For many years the orchestra has performed the opening concert (and subsequent concerts) in the ''Dimitria Festival'' which is an annual weeks-long extravaganza of cultural events and activities in Thessaloniki.
The TCSO has also collaborated with G. Dalaras, F. Pliatsikas, E. Reboutsika, Glykeria, Th. Mikroutsikos, D. Savvolpoulos, E. Karaindrou, K. Makedonas, M. Farantouri, E. Arvanitaki, and G. Gakis and the Troublemakers. The orchestra has appeared at the Athens Concert Hall, the Lycabettus Theater, as well as in numerous cities throughout Greece (Veria, Larisa, Naoussa, Mesolongi, Drama, Igoumenitsa, Kavala, Serres, Volos, Preveza, Kastoria, and Corfu, to name a few) and outside of Greece at the Ancient Theater of Ephesus and in Cyprus. It has made recordings of Vivaldi's ''Four Seasons'' with soloist L. Kavakos and maestro Kosmas Galileas and Haydn's ''The Creation'' under the direction of Byron Fidetzis in the year 2000. The TCSO has also performed many operas including ''The Marriage of Figaro,'' ''Don Giovanni,'' and ''Abduction from the Seraglio,''(Mozart) ''Il Campanello Di Notte,'' (Donizetti), ''The Medium'' (Menotti), ''Gianni Schicchi'' and ''Turandot'' (Puccini), ''Momo'' (Alkis Baltas), ''Il Trovatore''and ''La Traviata'' (Verdi), ''Salome'' (R. Strauss), ''Die Fledermaus''(J. Strauss), ''Carmen'' (Bizet), ''Orpheus in the Underworld'' (Offenbach) and in February of 2016 the TCSO performed for the first time in Greece the opera ''The Puritans'' by V. Bellini. In addition to its work in opera the orchestra has also performed the ballet ''Sleeping Beauty'' (Tchaikovsky) and the major oratorios ''The Passion of St. Matthew'' ( Bach) and ''Missa Solemnis'' (Beethoven).
Finally, in recognition of TCSO's valuable contributions towards the promotion of Greek composers' works, internationally famous composer and Boston University professor, Th. Antoniou, dedicated his first symphony to the orchestra which had its world premiere on January 19, 2003. The Thessaloniki City Symphony Orchestra supports established as well as newly emerging Greek musicians and contributes substantially to the cultural life of Greece.
FIRST VIOLINS
Xenariou Panagiota (Concertmaster)
Giavroumis Omiros (Concertmaster)
Chrisafi Maria (Principal)
Kaplanidis Achilleas
Megaklis Leandros
Polyzoidou Konstantina
Tsakalidis Stelios
Natco Alketa
Patras Philippos
Gialenios Nikos
SECONDS VIOLINS
Mavridis Panagiotis (Principal)
Iosifidis Georgios (Sub-Principal)
Lalos Thomas
Kanatsou Christina
Voulgaris Aristeidis
Sgouromalli Eleni
Kokkalis Konstantinos
Kalifatidou Aikaterini
Mavromatis Georgios
Dadoudis Marios
Mavridis Georgios
VIOLA
Gogousi Suzanne (Principal)
Kyriakou Maria (Sub-Principal)
Vasileiadou Aggeliki
Danailidou Olga
Mpoulasikis Apostolos
Vafeiadou Ioanna
CELLOS
Christova Maria (Principal)
Tsertonidou Tatiana (Sub-Principal)
Douka Ioulianos
Soupila Sylvia
BASSES
Panagiotou Athanasia (Principal)
Karantzis Nectarios
Zafeiriou Fotis
FLUTE
Tsoukla Ira (Principal)
CLARINETS
Karydis Odysseas (Principal)
Leontzakos Dimitris (Sub-Principal)
BASOONS
Danailidis Anastasios (Principal)
Scalai Erika (Sub-Principal)
TROMPET
Mpaharidis Nikos (Principal)
HORN
Kanellopoulos Efthimis (Sub-Principal)
TROMPONE
Chalkias Giorgios (Principal)
PERCUSSION
Katsourin Oscar (Principal)
PERSONNEL MANAGER
Danailidis Anastasios
STAGE MANAGER/LIBRARIAN
Spiridopoulos Miltos
Roidou Evelina
Haris Iliadis was born September 10, 1972 in Thessaloniki, Greece. He began his musical studies in piano, harmony and counterpoint at the New Conservatory of Thessaloniki. In October of 1993 he began to study conducting at the Academy of Music and Dramatic Arts "Mozarteum" in Salzburg, Austria under the tutelage of Michael Gielen and Dennis Russell Davis. He graduated from the "Mozarteum" and received his diploma in conducting and the title "Magister Artium" in June, 1997.
In 1994 he was awarded the "Special Prize for young conductors of the Debrecen Philharmonic Orchestra"(voted by the musicians of the orchestra).
He has appeared as guest conductor with numerous orchestras in Greece, Bulgaria, Romania, Germany, Austria, Italy, the Ukraine and Israel.
He is the Principal Conductor and Artistic Director at the City of Thessaloniki Symphony Orchestra since August 2001 and throughout his career he has worked with distinguished soloists like Cheryl Studer, Paul Badura – Skoda, Kostas Kotsiolis, Dimitris Sgouros, various soloists of the National Opera – House etc.
Lisa Xanthopoulou was born in Thessaloniki, where she studied piano, advanced music theory and choral conducting at the State Conservatory and the Music College of Thessaloniki. In 1992, she completed her studies at the Department of Music of the Aristotelian University of Thessaloniki.
In 1998, she graduated from the Universtität der Künste in Berlin, where she studied orchestral conducting with maestros H.M. Rabenstein, H.D. Baum, I. Jackson and M. Husmann. During the course of her studies, she was selected by the German Music Council (Deutscher Musikrat) to participate in their support program for young conductors (Dirigentenforum), where she had the opportunity to work with distinguished maestros such as: K. Sanderling, M. Soustrot, D. Kitajenko, K. Masur, Cl. P. Flor, P. Gulke, B. Kontarsky, J. Kalitzke, and others. In 2002, she was chosen to participate in the Maestros von Morgen program (Tomorrow's Maestros).
She has conducted performances and concerts in Germany, Italy, Cyprus, Turkey, S. Korea and Egypt. Also, she regularly collaborates with all cultural organizations in Greece.
She has received awards at international conducting competitions such as 1st prize at the 2002 Bad Homburg Conductors' Contest and 2nd prize at the 5th A.Pedrotti Conductors' Contest in Trento, Italy, in 1997 (no first prize was awarded that year). She was one of the three finalists in the 5th Conductors' Contest in Cadaques, Spain.
In September 2005, she was appointed Artistic Director of Thessaloniki Opera, the first time this position was introduced. During her administration, in addition to the artistic and administrative development of Thessaloniki Opera, she also established an educational program named "Pes Opera". This pioneering program has familiarized thousands of children and young people with opera as an art form. She introduced the "Pes Opera" Festival, which for two years was the final event of the educational program.
In April 2018 she became Artistic Director of Thessaloniki City Symphony Orchestra.
She has received enthusiastic reviews ever since her very first appearances, both in Greece and abroad.
Deputy Mayor of Culture & Arts
Chrisidou Elli
Director of the Administrative Department of Culture and Tourism
Tsaousidou-Mitraka Vassiliki
Division of Municipal Musical Groups
Nena Vasiliki – Supervisor
Gounas Paraskevas
Moloha Nikoleta
Tzoumaki Maria
Mpousekas Anastasios